These extraordinarily unique and highly specialized assessment instruments are difficult to find anywhere else. Each of these unique assessment instruments generates a report producing laser-targeting data intended to deliver answers and insights to very specific questions, challenges and topics
There are a few unique and highly specialized assessments for rare cases, including:
Sales IQ Plus

DISC Collaboration

Most people believe that they can measure a salesperson's success through their ability to generate new sales. Truth is, there are a set of skills, behaviors, knowledge and attitudes involved in any successful sales career. The Sales IQ Plus assessment offers an objective analysis on whether or not a person has the ability to really sell.
Some of the sales competencies:

As in knowing who and where your prospective buyers are, and selecting the strategies and tactics that best work for each market.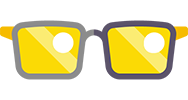 With the people you're trying to sell to.

Needs and wants to know what and how to sell by listening to the customer.

The buyer's problem, or filling their need. This is where you present your solutions, tell your story.

Where you gain the prospect's commitment to buy. This means you were able to persuade the buyer of the importance of what you have.
This is where relationships and customer loyalty are built.

The DISC Collaboration Report shows how two people interact with each other in order to help them develop a better working relationship. The report shows specific areas where differences in perspective could lead to potential misunderstandings, offering potential solutions for conflict resolution.
The DISC Collaboration Report produces many insightful suggestions, for the both individuals, organized by specific sub-sections including:
DISC Scores

Behavioral Style Overviews

Strengths & Struggles

Work Style Tendencies

Communication Do's & Don'ts

Workplace Motivations

The 12 Integrated DISC Relationships